Welcome to (On The) Eighth Day Workers' Co-operative…

You can find us in the university area of Manchester. We're a worker's co-operative and a your one-stop shop for all things ethical, vegan & vegetarian, eco living, organic, local and cruelty free since 1970!
From cruelty free skincare & beauty, supplements and nutrition, local coffee, craft beer, wines, everyday groceries and extra special foods too our award winning Health Food Shop offers the largest selection of ethical, eco, veggie, vegan, organic and Fairtrade products in the Northwest! We've even got our own nutritionist. We are a small independent who support fellow independents, doing their bit to make the world a better place. Click here for our opening hours.
---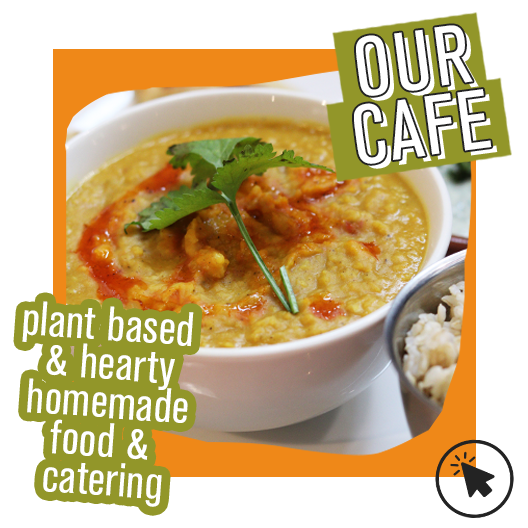 Our café is a place for hearty, healthy plant based food (and some not so healthy options too)…
Made from scratch and with seasonal ingredients, our food menu is 100% vegan friendly. Read more here.
With a small team of chefs with a genuine passion plant based grub, our menu never stay the same. Following a set format of two 'mains', a type of dhal (and eighth day classic), a type of stew, and a soup, our hot food menu never stays the same.
Baking vegan friendly cakes in house, and selling others from local, super talented bakers, offering barista coffee, fresh smoothies and cold foods like sandwiches too, we think we're a fab lunch spot. Click here for our opening hours.